Chapter 7 Bankruptcy
---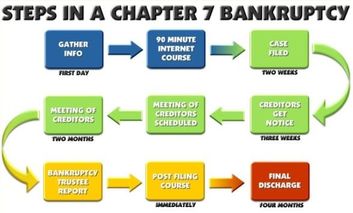 The Chapter 7 "Means Test"
Chapter 7 is the quickest way to eliminate debt, but not everyone is eligible.
​​To qualify for Chapter 7, a person must first pass the "means test", which is simply the method Congress has chosen to determine who may file Chapter 7.
The "means test" includes two main requirements: (1) the person's income is below the state median income (varies state-to-state), and (2) the person's debts are primarily "consumer" based. While a number P
eople who generate income at or above the median average and are able to repay most of their debts are probably ineligible to file Chapter 7 (in which case they should file
Chapter 13
)
. ​
Frequently Asked Questions
​

Q: What effect, if any, will filing bankruptcy have on debt collectors?

A: Immediately upon filing bankruptcy, an "automatic stay" goes into effect that bars all creditors and debt collectors from contacting you. ​A creditor who willingly violates the automatic stay is in contempt of the bankruptcy court and may be liable for monetary sanctions.
​
Q: Who deals with creditors and debt collectors during the bankruptcy?
A: We handle all of your creditors and debt collectors.
Q: Is there anything I should avoid if I'm going to file bankruptcy?
A: This is an example of a personalized question that is best answered by a qualified bankruptcy attorney after he or she learns the facts of your situation.
Q: If I'm married, do my spouse and I both have to file?
No, you may file individually.
Q: Will bankruptcy stop my wages from being garnished?
A: Yes, bankruptcy will stop your wages from being garnished. Further, any wages garnished from your paycheck within the 90 days prior to your bankruptcy filing are recoverable by the Trustee for the benefit of your bankruptcy estate (i.e., the creditors in your bankruptcy case who have allowed claims).
Q: Could filing bankruptcy cause me to lose my job?
A: No. Bankruptcy laws prohibit discriminatory practices such as firing a person for filing bankruptcy.


Q: Will bankruptcy halt a foreclosure?
A: Generally, yes - but there are exceptions. If you're home is facing foreclosure, book an appointment with us as soon as possible so we can review your case.
Q: Will bankruptcy halt a legal proceeding against me?
A: Yes. Bankruptcy stops almost all pending civil proceedings and eliminates most past judgments against you.
Q: How long do I have to wait before I can filed bankruptcy again?
A: Chapter 7 filers must wait six years from the date of a previous bankruptcy filing. If a bankruptcy petition was dismissed, however, a filer must wait 180 days from the date of the dismissal to refile.
Q: Do I need to be a U.S. citizen to file bankruptcy?
A: No, you don't have to be a citizen. If you are not a U.S. citizen but have a Social Security card or Tax ID, you can still file for bankruptcy. You can also file if you do not have a U.S. ID but nonetheless own property located in the United States.
---
| | |
| --- | --- |
| | At Lazzo Law, we offer a 100% free consultation to evaluate your case and answer any questions you may have. We have more than 35 years of bankruptcy experience and have helped thousands of clients successfully navigate the bankruptcy process. |